We are an IT Consulting firm comprised with our clients to identify and build solutions that expand their business process and build lasting competitive advantages through technology Information projects well done. We bring a diverse set of skills, experience and expertises necessary to create success for your specific goals and timeline. We are just what you need, just when you need it.
The Impulso Virtual  opened its "doors" for Latin America market with affiliates in Colombia (1995) and Brazil (2003); while Business technology For All  is attending Canada and United States (2014). Nowadays, both companies are working a group sharing all their resources to support the customers business.
Our Mission Statement.
The mission of BT4ALL and IV  is to contribute to the success of our clients by providing consistent, exceptional, and cost-effective  IT services to support  their strategies and objectives.
Before we can dig into our work, we have to understand yours.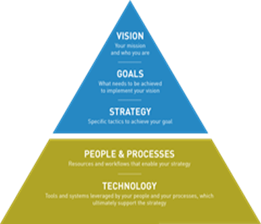 Our practices areas fall into two broad categories: technology and capacity building. Through discussion, research and observation, we learn about your vision and mission, your specific goals, and your strategy. Once we process that, we begin our work: technology consulting to determine the tools you need to get things done, implementation to make sure that those tools are properly deployed, and efficiency consulting within your organization to make sure that your people and processes will be able to make the most of the technology.